Today, Monday, March 3rd is the national launch date for an ambitious new line of chocolate products from Starbucks. But don't go looking for them at your local Starbucks coffeehouse because you won't find them there. In an interesting branding twist, Starbucks Chocolates will initially be made available through mass retailers, grocery stores, and drug stores and it is unclear when, if ever, you will be able to buy them at the counter where you order your half-caf no-foam skim latte every morning.
The product line consists of 5gr tasting squares, 85gr (3oz) bars, milk chocolate covered coffee beans, and a collection of five truffles. Starbucks is careful not to call these "artisan" chocolates. Rather, they are described as being "artisan-style" chocolates "inspired" by Starbucks coffees, teas, and coffeehouse flavors.
Starbucks Chocolate is a product of a partnership between Starbucks and Hershey's Artisan Confections Company announced in mid-2007. Artisan Confections is the wholly-owned subsidiary of The Hershey Company that purchased Scharffen Berger Chocolate Maker, Joseph Schmidt, and even though the press release fails to mention them, Dagoba.
From the press briefing I attended, it was pretty clear that even though Hershey chefs and product development people were involved, the flavor shots (pun intended) were being called by Starbucks. The flavor profile of the dark chocolate was specifically developed to complement Starbucks Verona blend, and several of the products incorporate flavors found in the Tazo teas Starbucks sells. However, it is unclear who is making the products: the labels say that the products are "made for" Artisan Confections, not "made by." It would be natural to assume that Joseph Schmidt would be making the truffles and Scharffen Berger would be making the bars but this is apparently not the case as Hershey representatives were unwilling (or unable) to disclose who is actually manufacturing the products.
One possibility is Astor Chocolates in New Jersey. Astor develops and sells some products under its own brand, but also does private-label work for companies, including Scharffen Berger. (Astor does the molding and wrapping for Scharffen Berger tasting squares and bars, and also manufactures(d) the Scharffen Berger truffle collection.) So they are one possible candidate. Another possible manufacturer is Hershey itself. While they no longer are in the business of roasting beans and grinding their own liquor (they outsourced that business in 2007), they do have the ability to take raw ingredients and turn them into finished product.
I mention this not because it has a direct impact on quality but it could provide some insight into how large the two companies believe the business can grow.
It is not even clear whether the chocolate used for the product is made by an Artisan Confections company. The scale of the project is large enough that the Scharffen Berger factory in Berkeley would not be able to make all of the chocolate used given their current production capacity as well as meet its own needs. The products are not organic, so that leaves out Dagoba, who has never been a "bean-to-bar" chocolate manufacturer anyway. (Much if not all of the chocolate Dagoba now uses is processed by Debelis, which is part of the Puratos group which also owns Belcolade.)
Both Starbucks and Hershey announced that the partnership is committed to purchasing cacao in a socially responsible, economically viable (I assume for cacao farmers as well as both companies, which are publicly traded), ecologically sustainable, and that meets specific (presumably high) quality standards.
This represents something of a breakthrough for such a large company and makes a strong statement about Hershey's commitment to playing a leadership role in the growing movement that wants to ensure that cacao farmers are treated fairly and receive a fair price for their crops. Where many companies would abdicate this responsibility to a third-party licensing organization (such as TransFair USA), Hershey's and Starbucks direct involvement is important because even though Fairtrade has been very successful in coffee and other foods, that success has not translated well to cacao. (I was told by someone who had worked for Transfair USA that after 10 years of offering Fairtrade certification for cacao that there are only about 20 certified co-ops worldwide.)
Hershey's cacao sourcing guidelines are designed to help to improve farmer incomes, ensure responsible labor practices and protect the tropical ecosystem. Hershey also supports organizations such as The International Cocoa Initiative (ICI) and The International Foundation for Education & Self Help (IFESH). Both Starbucks and Hershey support the World Cocoa Foundation.
Starbucks has developed what it calls its Cocoa Practices
Guidelines
and
Scorecard
(both are PDF files), which are being piloted for a two-year period beginning June 1, 2007. The Cocoa Practices were developed out of the company's experience with its C.A.F.E. (Coffee and Farmer Equity) Practices, the Starbucks coffee buying guidelines, and are similar in structure and criteria areas. The program is designed to evaluate and recognize producers of high quality, sustainably grown cocoa. To become a Cocoa Practices supplier, farmers, processors and exporters must meet minimum requirements and demonstrate best practices, which are subject to independent verification.
In the end however, the success Starbucks chocolate will rest on how it tastes. So, how does it fare from that perspective?
Actually, for the most part, it's better than I expected it to be, especially given the price points. The Starbucks Signature chocolate bars have a suggested retail price of $2.99 so technically they do not qualify for the "premium" chocolate category. The tasting square versions probably cost out at more than $15/lb (which is the lower limit to be considered "premium), but it would be hard to classify them as premium products when the base chocolate does not.
Interestingly (and refreshingly), Starbucks has opted not to label their chocolates with either cacao percentages or origins. However, with all of the hype that is surrounding both of those characteristics of chocolate it will be interesting to see if it benefits or hinders their success in the market. I have to believe that this aspect of marketing was extensively tested in focus groups which is why the bars mention neither on their labels. All of the products are certified Kosher Dairy.
The Starbucks Signature chocolate bars weigh 85gr (3ozs). There are three varieties, milk, dark, and dark mocha made with Starbucks Guatemalan Casi Cielo. The ingredient list is fairly standard for a mass-market chocolate and includes milk fat in both of the dark chocolates. The milk fat, in addition to replacing more expensive cocoa butter, also stabilizes the crystal structure of the chocolate making it more shelf stable. Furthermore, the chocolates are made with "natural vanilla flavor" and not natural vanilla or natural vanilla extract, which are probably more expensive.
Nonetheless, when you put them up against the products in the candy aisle of the local supermarket, the price point, brand name, and quality of the taste and texture mean that these bars are competitive with most everything else on the shelf. This will probably not be true in a gourmet food store, and people who are interested in Fairtrade and organic chocolates will snoot right on by these.
The tasting squares is where things get a little more interesting. Three are simply small versions of their larger siblings. Three however, incorporate Tazo teas as inclusions (the actual teas are ground finely and mixed into the bars) rather than as flavorings. These include Chai (in milk chocolate), and Passion and Citron (in dark chocolate).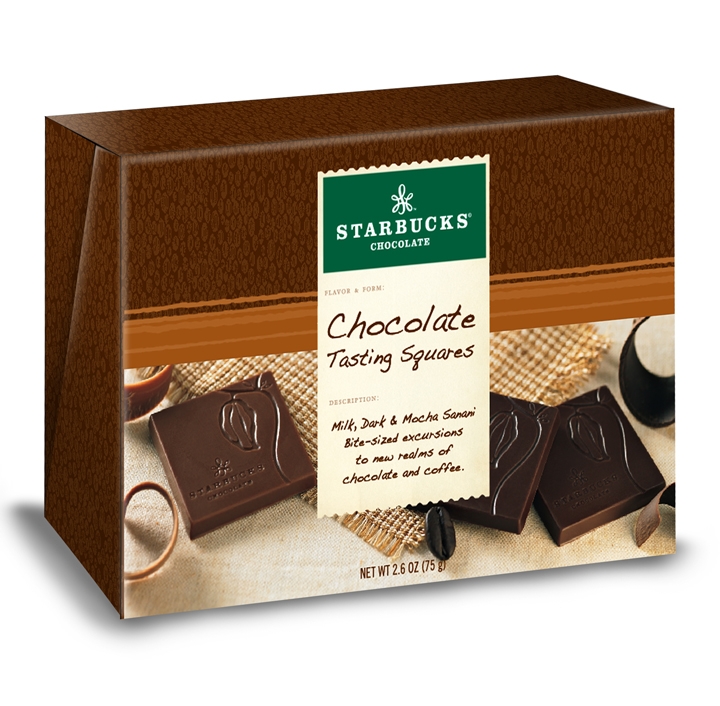 Despite its name, the predominant flavor of the Passion chocolate is hibiscus, not passion fruit. The tea inclusion gives the chocolate a crystalline graininess that you will either love or hate. The tea flavor itself is quite nice with a tart fruitiness that survives even into the long aftertaste and is very different from the red-fruit (raspberry, cherry, plum) fruitiness characteristic of many Scharffen Berger chocolates or the citrus-y fruitness of many bars made with Madagascan beans. I would pair this piece with a simple black tea in place of any kind of sweetener.
The dark chocolate Citron includes both tea leaves (which does impart a grainy texture) and lemon oil, which carries the lemon flavor all the way through this piece from the moment you smell it until you either take a drink or taste of something else. This would be a good piece to pair with an espresso for those people who like the idea of flavoring the espresso with lemon but not the idea of adding sugar. This piece is about lemon, not about chocolate, and delivers the lemon flavor and a hint of sweetness to balance the bitterness of the coffee.
The graininess of the tea inclusion in the Chai chocolate is even less pronounced in this piece in which the predominant flavoris cardamom. The chocolate is far less sweet than the concentrate Starbucks uses for it Chai lattes, which is a very good thing because a combination of that sweet Chai with the sweet milk chocolate would result in something very cloying. This would be a good piece to pair with a cappuccino or latte.
The suggested retail price for a package of these squares is $4.99-$5.99, but I could not find any indication in the press materials of the number of squares in a package.
The next-to-last item in the product line is milk chocolate covered coffee beans. The bean selection is from the Verona blend which is interesting because, I would guess, that the different beans contributing to the blend will deliver slightly different flavors. It's fairly unusual for coffee beans to be covered in milk chocolate so I suppose that Starbucks is going here for the breakfast blend/latte/cappuccino drinker, not the French/Italian roast/espresso drinker. While the taste and texture are good, the aroma is not; this product smelled to me more of inexpensive vanilla than it did of either chocolate or coffee. A 100gr (3.5 oz) box has a suggested retail price of $4.99-$5.99.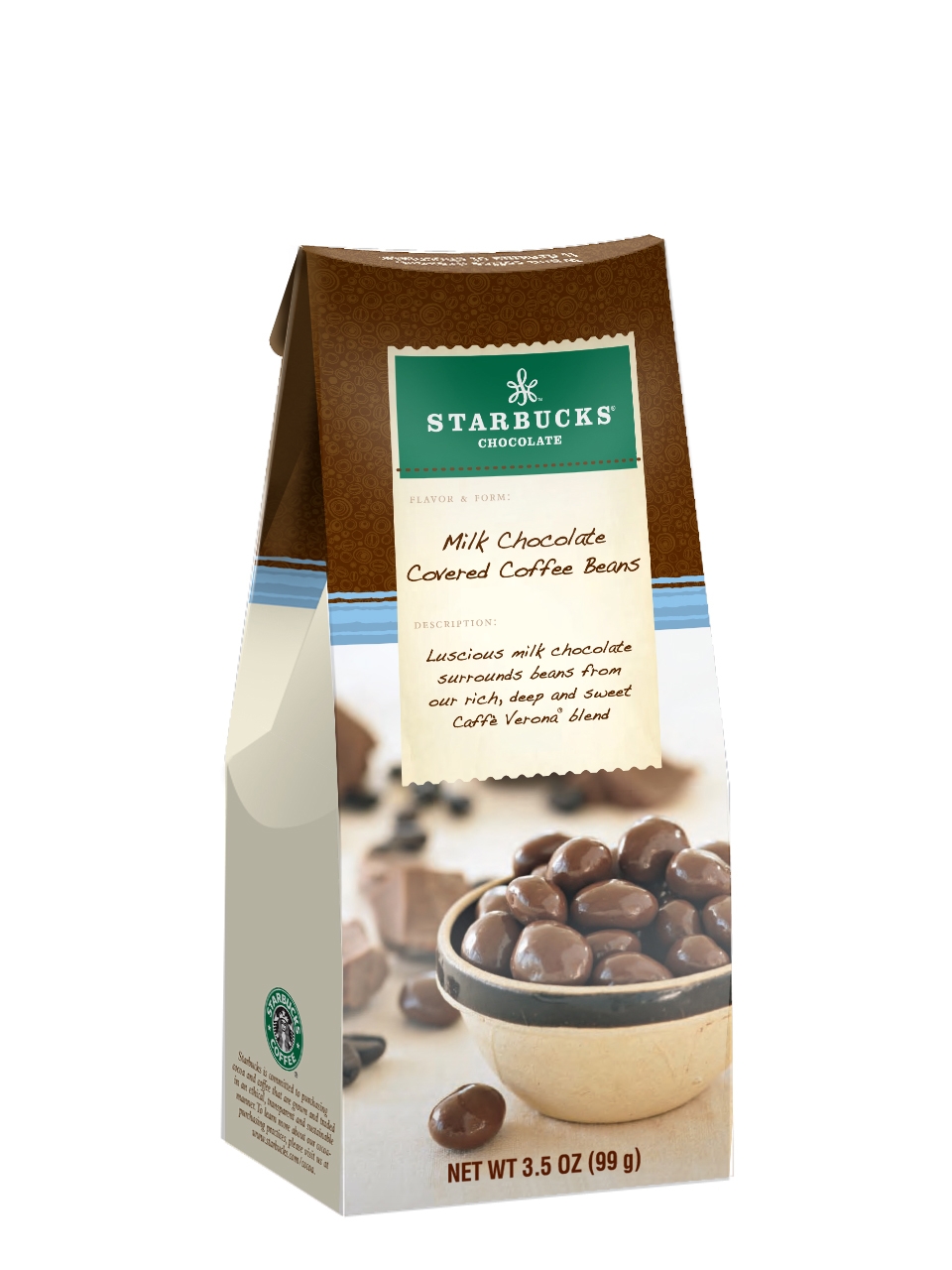 Finally, we come to the truffle selection. There are five flavors in the line. Four cost between $4.99-$5.99/box while the fifth, which is available "in Club" only, (whatever that means and it is not explained in the press materials I have), costs $9.99. The four generally available flavors are Milk Chocolate Caffe Mocha, Milk Chocolate Chai, Dark Chocolate Espresso, and Dark Chocolate Vanilla bean. The "Club-only" flavor is Milk Chocolate Caramel Macchiato.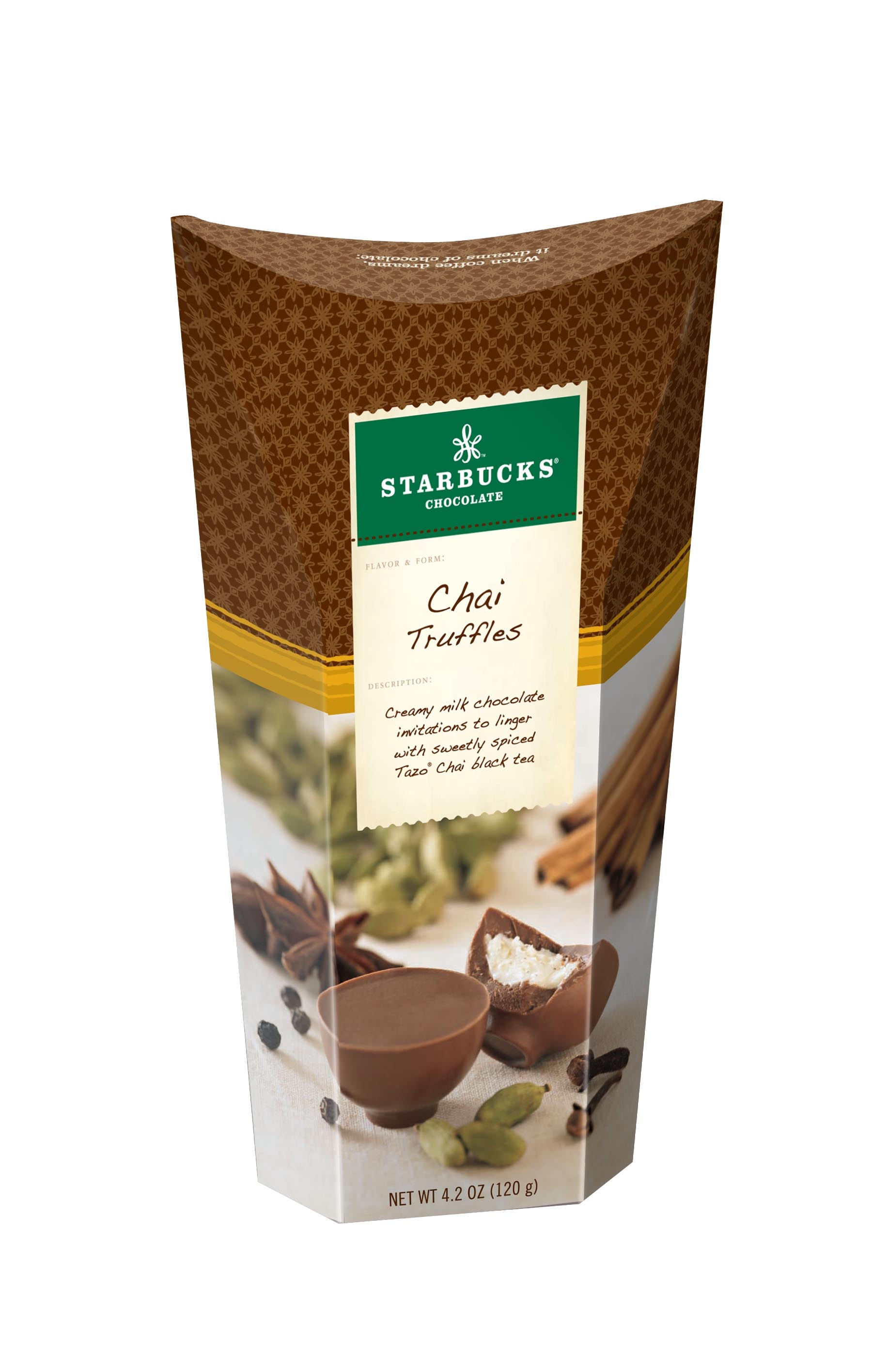 The price point for these and the point of sale (mass-market retailers, grocery stores, and drug stores) provides a real good indication of the what can be expected. The flavors are very front and forward and overpower the chocolate. The Vanilla Bean does have specks of real vanilla bean it, however. Overall, however, the flavors are far better balanced and are more sophisticated than virtually everything else in that price point and in those retail locations. If I were Russell Stover/Whitmans, a house brand (where I live the dominant grocery store chain is Royal Ahold's Stop and Shop whose house brand is Simply Enjoy which has a surprisingly large selection of truffles), or even much of the See's product line I would pay close attention to these products.

In Conclusion
I was more than a little surprised to discover that Starbucks Chocolate would not be available in Starbucks coffeehouses in the beginning, if ever. With 10,000 doors (shops) in the US alone, selling only 10 pounds per week per store represents a huge volume.
However, past experience may be, in part, what's behind that move. Starbucks first attempt at a European-style drinking chocolate, Chantico, was not a success.
The company is in the middle of something of a reorganization and is focusing much of its attention on reviving its core coffee business in an attempt to regain its luster on Wall Street and stanch the flow of defections of people who have become less enamored of the Starbucks experience. Extending the Starbucks brand into the grocery store into a new aisle, and doing so with a partner with lots of experience putting product onto candy shelves and getting it sold, is a way to generate increased revenues without interfering with what needs to happen to fix the core coffee business.
For Hershey, Starbucks Chocolate is another step up the ladder in repositioning the company as not just a mass market candy brand. Hershey itself can not legitimately lay claim to being an artisan chocolate company whose focus is on quality. Setting up Artisan Confections and putting Scharffen Berger, Schmidt, and Dagoba in that umbrella is part of a larger strategy of moving customers up the value chain with the Cacao Reserve collection forming an important conduit. Hershey customers, they hope, will move up from their milk and "special dark" chocolates to Cacao Reserve and then, rather than defecting to another brand after Hershey has spent a lot of money educating them, have an array of Hershey products they can choose from. Starbucks among them.
As mentioned earlier, the chocolate is better than either the price points or the points of sale might at first indicate. The flavored tasting squares are the most interesting parts of the product line and the truffles, while quite good for what they are, reflect the partnership's goal of creating "artisan-inspired" products not artisanal ones.